Wall Supporter Crashes Grammy Awards – Shows Off Show-Stopping Dress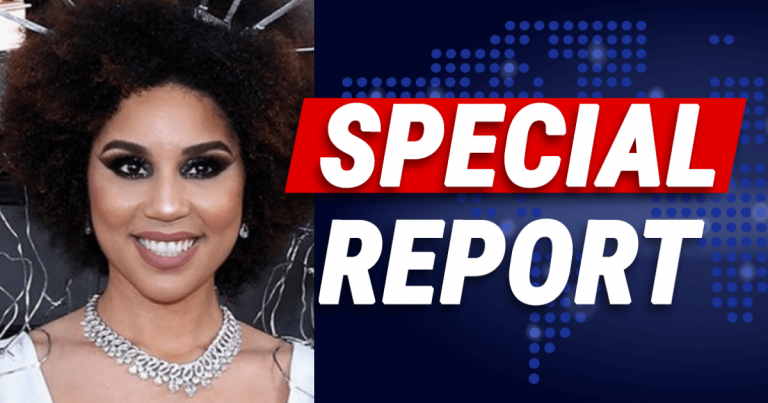 She made Donald Trump proud – and triggered every Hollywood liberal.
The Grammy Awards happened last night. Yep, you probably didn't know.
Most patriots have been ignoring award ceremonies since they've become Trump-bashing central.
But one moment did stand out at the event. Beautiful and popular singer Joy Villa showed up on the red carpet.
Wearing a dress that triggered every last liberal.
From Hollywood Reporter:
The singer, who donned pro-Trump and pro-life gowns at the past two editions of the music awards ceremony, made another right-leaning political statement this year…
The musician showed up on the red carpet sporting a black-and-white gown with a brick motif inspired by Pink Floyd's 1979 album The Wall with the words "Build the Wall" hand-painted in red on the back side. The dress — designed by L.A.-based Desi Lee Allinger-Nelson of Desi Designs Couture, Villa told The Hollywood Reporter — also featured barbed wire on the shoulders to mimic the top of a security fence, a spiky headpiece, and a silver cloak-like dress over that top that alludes to steel. Her red purse sports the words "Make America Great Again" and was also custom-made by Allinger-Nelson as a riff on the Trump MAGA hat.
SHARE if you LOVE Joy's Border Wall dress!
Villa has had a history of shaking things up within the music industry. She came out in support of President Trump back in 2017.
Since then she has enjoyed a boost in her career. While liberals within the industry have tried to attack, intimidate, or blacklist her, patriots across the country rallied behind her.
She's enjoyed support in the form of followers and music sales.
Which proves once again that supporting the president is the smart thing to do.
Meanwhile, liberal celebrities rant and rave like crazy people—and lose out big time.
Joy Villa proudly wore a dress demanding our border wall. You can imagine the outrage of those left-wing losers, who don't care about U.S. security.
We should thank singers like Villa—the precious few—that stand up for America's freedoms and rights.
SHARE if you LOVE Joy's Border Wall dress!
Source: Hollywood Reporter