After Warren Expects Softballs From Colbert – Stephen Sideswipes Her With Hard-Hitting Interview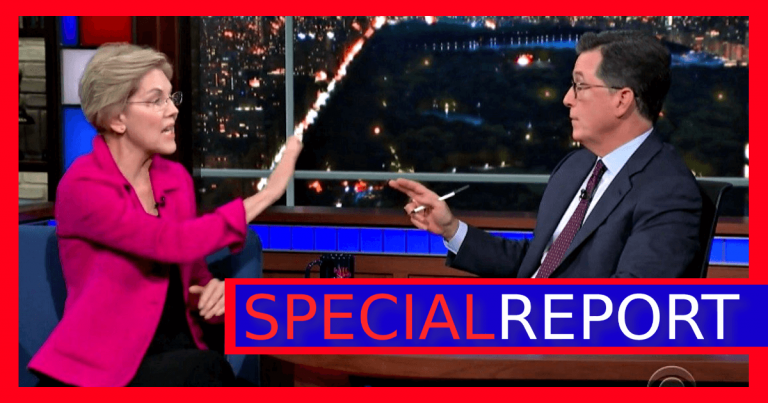 Elizabeth Warren thought Stephen would be easy – she never saw him coming!
Elizabeth Warren is getting all kinds of love from the mainstream media—but that might be coming to an end.
As she has seen her poll numbers go up, she has been enjoying the attention. It seems like some Democrats consider her a shoo-in for the nomination. Maybe a second chance to get a woman into the White House.
Thinking she'd get a nice, easy interview, she appeared on Stephen Colbert's show. Perhaps she wanted the comedian to give her some softball questions she could knock out of the park.
Instead, the talk show host nailed her with the same question everyone has been asking. And he didn't let her get away with the typical non-answer.
From National Review:
Late Show host Stephen Colbert grilled Democratic presidential candidate Elizabeth Warren on the cost of her Medicare-for-All plan in an interview Tuesday night, leaving Warren momentarily at a loss for words.

Colbert called the proposal the "most radical thing" in Warren's platform and asked her: "How are you going to pay for it? Are you going to raise the middle-class taxes?"
"But here's the thing-" Warren began.

"But here's the thing," Colbert quipped back.
Ouch! I bet Warren wasn't expecting Colbert to ask her a hard question about Medicare-for-All. In fact, he even mocked her waffling and demanded a real response.
For a self-proclaimed socialist-lover like Colbert to put the screws on Warren is really telling.
The left has gone all-in for a socialist takeover of the government. Yet even the liberal Colbert is forcing Democrats to fess up.
Medicare-for-All would put a massive tax burden on everyone. Democrats dance around the issue, focusing on how they'd raises taxes on the rich.
But what they don't tell you is that taxing the rich won't be enough. They'll need to tax middle-class families. Families who already struggle to make ends meet and afford health insurance.
The Democrats' solution—including Warren—is to hammer us with heavy taxes so they can provide sub-standard, government-run health care.
You don't want to get health coverage from the same people who run the DMV, do you? Yet that is what Warren is demanding.
And that more of your pay is taken to fund it!
Colbert is no conservative. Yet even he wanted Warren to admit that one fact. Doesn't seem like she's willing to.
SHARE if you think Trump would beat Warren in a landslide!
Source: National Review