Democrat Weingarten Loses It Outside Supreme Court – Live TV Catches Her Ranting About Student Loan Debt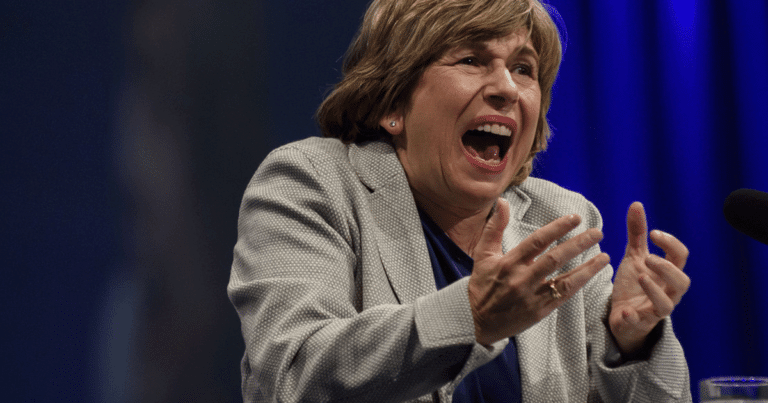 What's Happening:
Ever since someone within the Supreme Court leaked a draft document, liberals think they have the power to bully the highest court in the land. Protesters tried to intimidate our justices into changing their votes–a violation of federal law.
And it hasn't gone away. Democrats held a demonstration on the steps of the court recently. Their beef? The fact that the court might soon void Biden's student loan forgiveness scheme and, in turn, protect Americans from losing nearly half a trillion dollars.
The crooked head of the national teachers' union was on hand to complain. And, seeing as how her corrupt group was about to lose votes–I mean "aid"–she really lost it.
From Fox News:
Teachers' union president Randi Weingarten got attention on social media for her emotional display outside the Supreme Court on Tuesday…

Weingarten broke down during her speech.

All of a sudden, when it's about our students, they challenge it, the corporations challenge it, the student loan lenders challenge it," she continued. "That is that not right, that is not fair, and that is what we are fighting as well when we say cancel student debt. This is about the people, and it is about the people's future, and it is about all of your futures."
The lack of self-awareness is what gets me about these people.

Who told Communist John Denver that she should be a public speaker? https://t.co/dnkCny71ab

— Jesse Kelly (@JesseKellyDC) February 28, 2023
This is pretty hilarious. The mob-style leader of the teachers' union was raging that the Supreme Court could cancel Biden's illegal and possibly unconstitutional attempt to forgive roughly $500 billion in student loans.
Weingarten, perhaps the most hated American behind Anthony Fauci, was one of the biggest leaders in shutting down our schools during the pandemic. She and her gang of crooks blackmailed school administrations into spending big bucks to accommodate teachers who were going to "die" if they returned to school.
Not once did Weingarten care that the lockdowns nearly destroyed the education of millions of students. Not to mention damaging their mental health, perhaps beyond repair. Nope, she only cared about getting as big of a windfall for herself as possible.
Now, she is ticked off that the Supreme Court might shut down Biden's scheme of bribing voters with student loan forgiveness. She whined that small businesses get aid from the government during the lockdown, not students. What she is ignoring is the fact that these students were obligated to pay back their loans.
The government froze payments during the pandemic, until these people could go back to work. She seemed to have forgotten about that. Communist Weingarten only wants as much money funneled through her corrupt "education" system as possible. She has spent her life brainwashing students into voting Democrat–and this would have been the icing on the cake.
Now, she is watching that dream vanish. She just can't handle the fact that these students will have to pay back what they owe.
Key Takeaways:
Teachers' union boss Weingarten melts down outside the Supreme Court.
The corrupt Democrat ranted over the possibility that the court will end Biden's student loan scheme.
Weingarten helped shut down our schools during COVID, irreparably damaging students' educations and mental health.
Source: Fox News