White House Tries To Give Biden a New Nickname – They Change It From "Let's Go Brandon" to "Dark Brandon"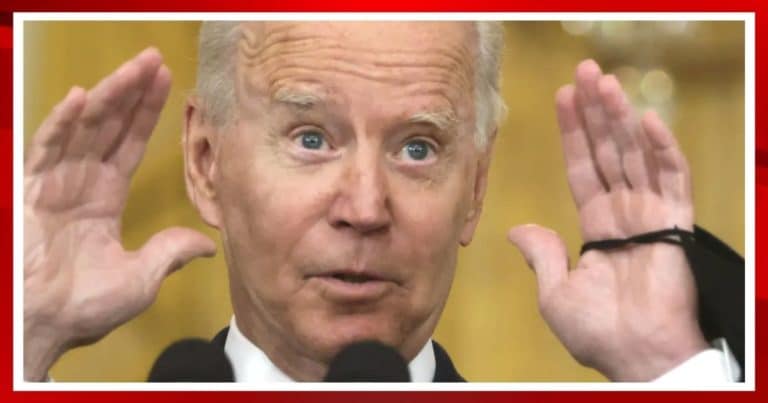 For a while now, "Let's Go, Brandon" has become a common phrase relating to the President. And of course, it's largely seen as a derogatory term.
In response to this, the White House has tried to "re-brand" the President thanks to a new meme that has gotten plenty of traction in 2022.
And it's a version of the original phrase that's getting a lot of backlash.
White House deputy press secretary Andrew Bates tweeted several memes, including one reading "the malarkey will end."
He also added one that has gotten a ton of scrutiny for being perhaps too close to the eagle imagery used by the Nazi Party in Germany.
That might've been inadvertent but the new "nickname" for POTUS could catch on among the left.
From Fox News:
Multiple White House staffers and Democrats have taken to social media attempting to rebrand President Biden as 'dark Brandon' amid a series of legislative victories.

'Dark Brandon is crushing it,' Andrew Bates, the White House deputy press secretary, tweeted Sunday evening along with an image of Biden with laser eyes.
— Andrew Bates (@AndrewJBates46) August 8, 2022
"The dark Brandon rises" is starting to circulate among left-wing social media accounts, though it has a ways to go before it reaches "Let's go, Brandon" popularity.
Conservatives quickly seized on the eagle imagery, too.
Said Sen. Josh Hawley (R-MO) spokesperson Abigail Marone:
Personally, I'm not surprised that you're tweeting out Nazi eagle imagery of your boss who reminisces about his segregationist 'mentor.'
Interestingly, Republican National Committee digital staffer Alec Sears added that "Dark Brandon" began as "Chinese propaganda."
Former President Donald Trump's campaign communications director Tim Murtaugh tweeted:
In 2020, the Trump campaign faced a week of stories and fact checks about a t-shirt with an eagle on it.https://t.co/QuHjLnzo2s

Let's see if a tweet from an official Biden White House account gets the same treatment. https://t.co/wpjgpbalzo

— Tim Murtaugh (@TimMurtaugh) August 8, 2022
Unsurprisingly, the creator of the image has defended it, saying the eagle was just meant to represent the bald eagle.
"Dark Brandon" seems to have started back in March, when it began circulating among Biden fans. They were trying to create a new "edgy" moniker.
And if the White House gets behind it, then it might get more attention — but it may or may not help Biden's approval rating.
Key Takeaways:
The White House appears to be getting behind a new moniker for President Joe Biden.
As a version of "Let's go, Brandon," the "dark Brandon" meme is moving among left-wingers.
Conservatives notice a similarity between the eagle in the image and the eagle in Nazi propaganda.
Source: Fox News