106-Year-Old Woman Reveals The Secret To Her Longevity – It's A Lightning Bolt From Above
Her secret is simple — and wonderfully inspiring!
Whenever someone hits an impressive age milestone, we always ask the same question:
"What's your secret?"
And that's the perfect question to ask Ruth Hilliard, who recently celebrated her 106th birthday.
That's right: 106.
The Halifax County woman was born way back in 1913 … that's just before World War I hit. Not World War II, mind you– World War I.
Heck, automobiles were just getting rolling and most streets weren't paved!
So, how'd she do it? Perfect diet? Lots of exercise? Just plain ol' luck?
Well, she probably did eat well and moved around plenty but Ruth says the secret to her longevity is simple:
Her faith in God.
As ABC 11 reported, Ruth is a devout follower and her favorite scripture is Psalms 91:15:16:
"He will call on me, and I will answer him; I will be with him in trouble, I will deliver him and honor him.

With long life I will satisfy him and show him my salvation."
And even though her vision isn't so great anymore, she still recites those lines on a routine basis.
Furthermore, she said "she believes God has used her 106 years of life to show the value of that particular passage of the Bible."
Perhaps he has. Everyone has a purpose on this earth, right?
And it makes sense, too, because Ruth was a teacher; she spent her life teaching children at school and even at church.
In honor of this woman's incredible run, the North Carolina House of Representatives sent her a special certificate: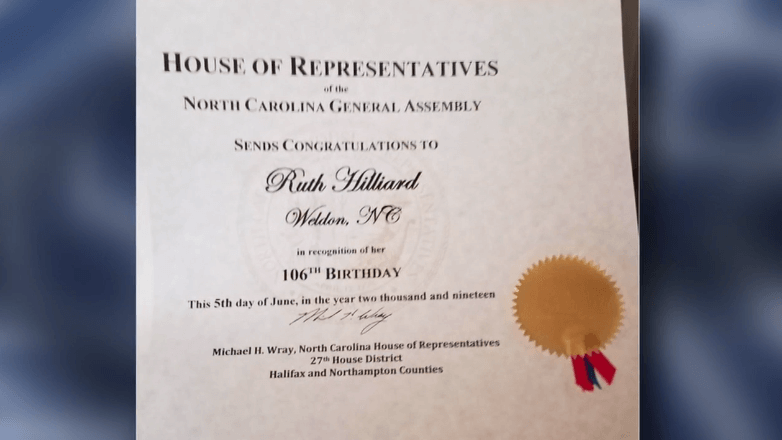 In the end, Ruth is 106 because she believes.
She's still around today to spread the Good Word and that's just incredibly moving, wouldn't you say?
Who else agrees that this woman is guaranteed a special place in heaven when she finally passes?
If you were touched by this amazing story, please SHARE it with your friends and family!
Source: ABC 11